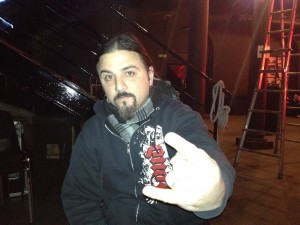 Tuesday 31 / 1 I met Sal Abruscato, frontman of American Doom Metal band A Pale Horse Named Death, for a chat about the band, the music and the future!
How did the idea of "A Pale Horse Named Death"?
January 2009. I did demos when I was frustrated with my musical situation, and I've always wanted to release a record 100% on my own terms, and I was watching TV a program about the Bible, and they talked about the revelations, the four horsemen of apocalypse and they rode on the "A Pale Horse Named Death" and it was here I came up with the name. And I knew at that very moment that it was the concept I wanted to build the band up, and I knew that it would be the name - January 2009.
What would you like to achieve with music?
What I would like to achieve is to release music I can vouch for, and put it up and arrange it and just make it really dark, but beautiful at the same time.Making it very hard, desperate-sounding, Doomy, gloomy and very depressing.
What are our ambitions? Everything from the side project of world domination?
That is my main band. Lagwagon no longer exists, so it's my heart and will be the final chapter in my life musically. and if it lasts ten years - fat, five years - fat, two years - fat. I do not know. But it's great to be able to finish this chapter in the life here in this kind of musical life.
What is it like to be in Europe with the new band? I know you've been here before a few times.
I love it! I feel really fat with it. Personally, I have been here many times before, yes, but A Pale Horse Named Death was on a short tour in Europe last August when we came to very many countries, so it's our first time in Copenhagen, which is very exciting because all the cities we will for the first time how people see us for the first time and people who have followed us a little maybe become fans. So we get new fans and basically we put the foundation for the band.
-You have the feeling of having to retake your old fanbase with other / previous bands?
Yeah, I would obviously like to see this succeed, it would be cool. But it's not a question of being a big rock star, but just have the longevity to make music and continue with what I do.
What expectations did you have for the European audience?
I do not really know it was a bit like an open book. My expectations were that we hopefully got new fans and they like what we do, and so far it goes surprisingly well. I see a kind of cult boot from city to city.
Your album "And Hell Will Follow Me" deals with very issues that your band's name alludes, such as hatred, death, pain, etc. Is it personal demons trying to exorcise the music?
Some songs are personal demons. Other songs are other people's demons.And some songs are just fictional cinematic stories that let the listener imagine the film, and in a manner depicting the story from a situation or scenario.
Will we hear more new music from you in the future? How are the plans as they look now?
Yes definitely. It is intended that I should make a record number two, and I have already started on it. The record company will have a new album and they are very excited about the band, so I am certainly committed to it (bursts into laughter). So I look forward to it because there is a theme it follows, I will not change too much in sound and style from the first plate. It becomes the same style, same artist, the album art, the same production, same concept - something bands do not make for more. Many bands come with a sequel to the debut album that sounds completely different from the first, and many fans from the first plate being upset about it and thus give it backfired. For the very few bands have been a success to change the style, but in most cases it will backfire, and fans will just see it as if you're trying to sell out and do a radio hit or something. I just write what I write, and if it is catchy - fat enough. If it is very depressed - probably fat too. I do not write music for anre than myself, I write what I like. I know what I like and that's what I do.
We thank Sal Abruscato and look forward to this already has a plate from A Pale Horse Named Death! Stay tuned for a review of the concert from the pump house!